Power Pole Installation, Repair and Replacement Services
IZCO Electrical is expert in overhead lines and power pole installation/ replacement. IZCO Electrical is an accredited level 2 electrician who supplies timber and galvanised steel power poles and performs power pole replacement, installation and repairs.
Private Power Pole Replacement & Installation in Sydney
If you require, you can get a private power pole installed close to your property, which is your private electricity source. At IZCO Electrical, we supply, install, connect and maintain timber and galvanised steel private power poles. Some property owners prefer the look of a private electrical pole as it eliminates the view of annoying cables from the front area of your house.
If you need private power pole repair, replacement or installation service, touch base with the specialist Level 2 electrician in Sydney on 0470 123 811 for a prompt response and speedy service
Why are Private Power Poles Installed?
Private power poles give you the flexibility to position your electricity source in the preferred space around your home. Once a private power pole is installed, the electric poles then transfer the electricity to the switchboard and then across the property.
Besides, the street's network pole remaining connected to the home may be riskier, thus, a private power pole is recommended.
The cables from the network pole to the home would block trees, roads and walkways. The private power pole can curtail the number of wires required. This will create a safer environment for the street and the properties.
If your private power pole has become too old, then a new private power pole needs to be installed removing the existing one. Thus, you'll need a private power pole replacement service.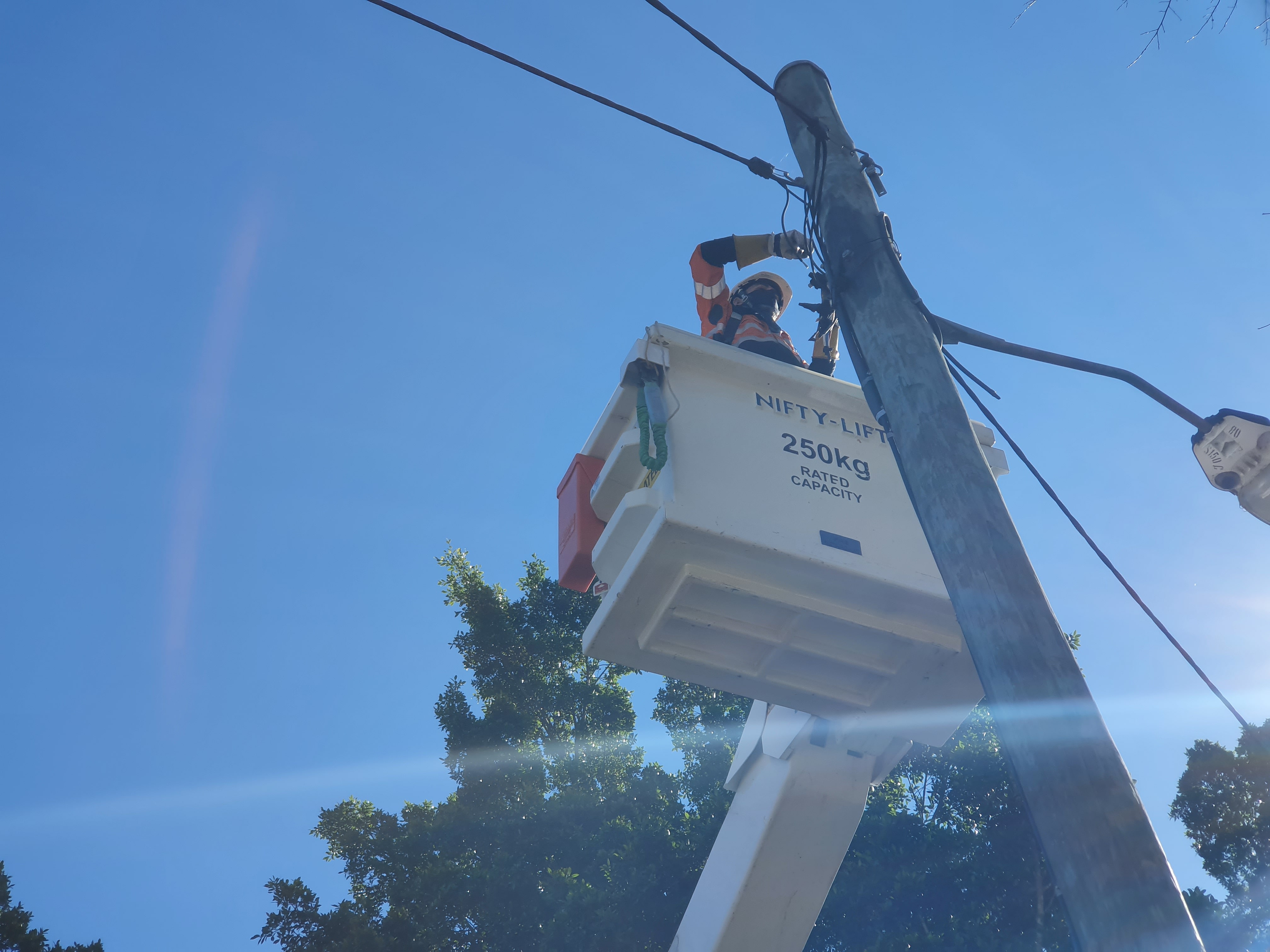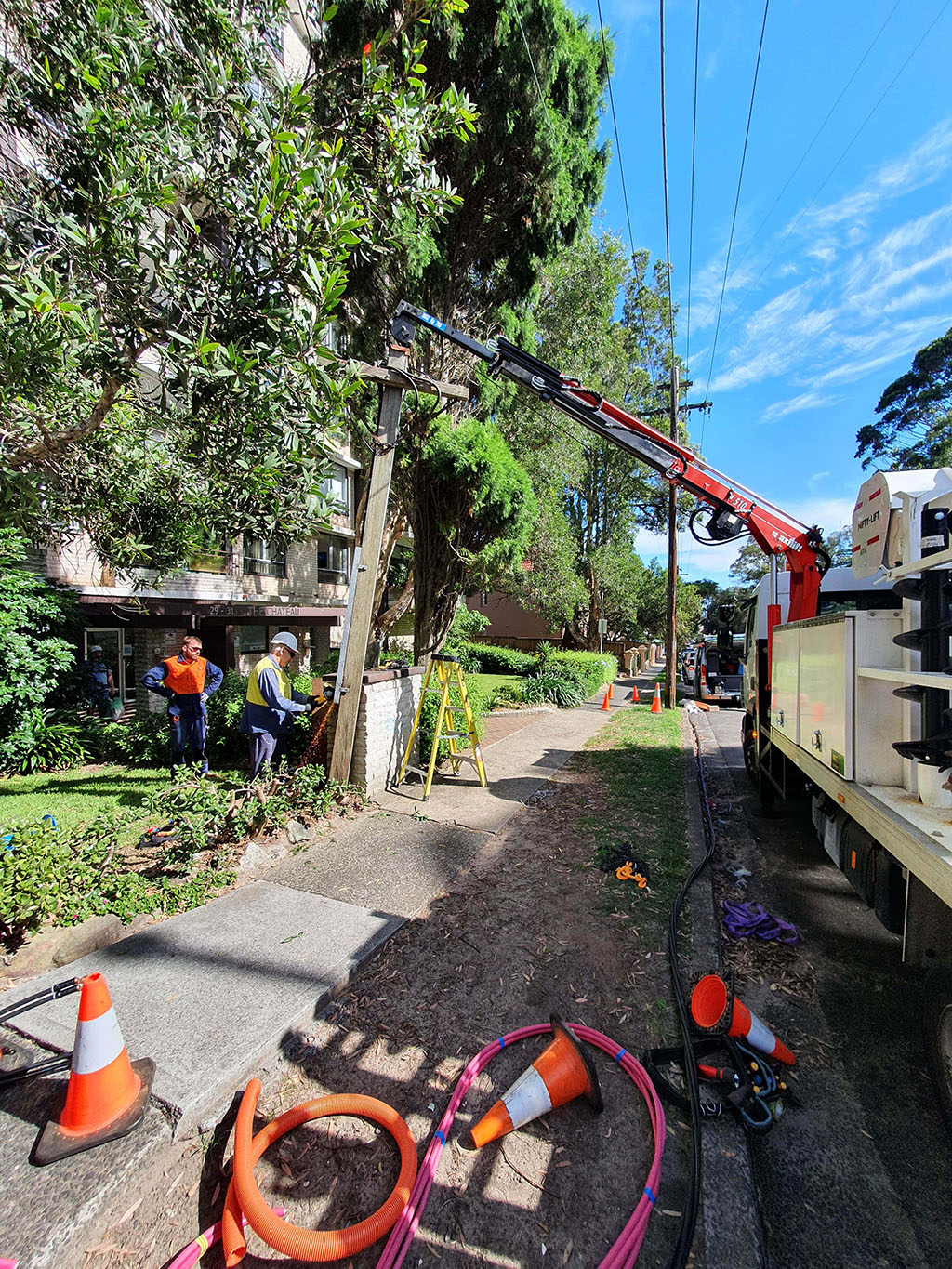 Power Poles – Their Main Types
Timber and galvanised steel are the two main types of private power poles that you can install onto a property. For installation and continued usage, both private power pole types come with their unique benefits and drawbacks. And it is up to the homeowner and his/her personal choice that determines which private power pole is installed or replaced.
1. Timber Private Power Pole
Timber private power poles can last for 20 to 25 years or more and so they are costlier than steel. Timber private power poles give a natural look to the property. Made from plywood, these power poles are non-conductive and safer for the surrounding area.
For drawbacks, termites can damage timber poles, and the likelihood increases if you're living in a coastal area where active termite mounds are close by. If a timber pole is installed in an area that experiences high moisture levels, then the timber can decay easily. Nonetheless, the rain won't cause the timber to mould as the poles are designed to dry quickly. Timber poles are considerably larger than steel poles and won't look good on some properties. They can be more noticeable and can hinder at times.
2. Galvanised Steel Power Pole
Galvanised steel private power poles can last for 10 to 15 years. Nowadays, galvanised steel private power poles are increasing in popularity. All the cabling is stored within the pole and is not exposed. Thus, galvanised steel power pole looks aesthetically appealing than the timber poles. Besides, they are smaller in size and more cost-effective.
Nonetheless, once the layer of zinc wears away, corrosion can form and start to decay the metal. This process will further speed up if you're living in a place near saltwater.
How Do We Install & Replace Power Poles?
Here is how we install and replace private power poles:
Examine the area and make sure it is clear from vegetation and that it can be connected to the electrical network and property via the point of attachment.
Disconnect the power.
Remove the old power pole safely.
For installing the new power pole, drill a hole. Install a new power pole.
Connect to the electrical network.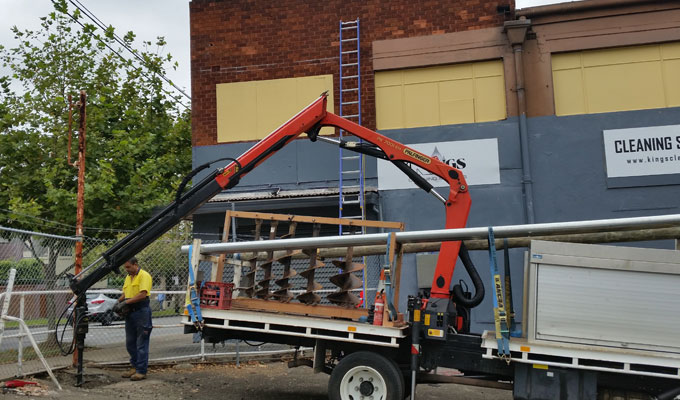 Emergency Power Pole Replacement Services
IZCO Electrical operates 24×7 and can help you with your emergency power pole replacement.
Important Safety Information
If you experience a fallen power-line, you need to follow the below-mentioned:
Make sure you remain a minimum of 8 metres away from the low hanging or downed line or any objects that are in contact with the line.
Be aware that electricity can emit out from its point of contact. If you stand closer than the recommended 8 metres, you're vulnerable to being electrocuted through the ground from the potential difference.
Avoid touching the line or any object in contact with it. Trees and fences are common items that may conduct electricity when in contact with a downed line.
Always assume the line is live and report any immediate safety hazards to the electricity network.
Refrain from attempting repairs yourself, and never move objects around down power lines yourself. If there is a danger to life, you should rather call an emergency Level 2 electrical contractor such as IZCO Electrical for all repairs and installations at the earliest.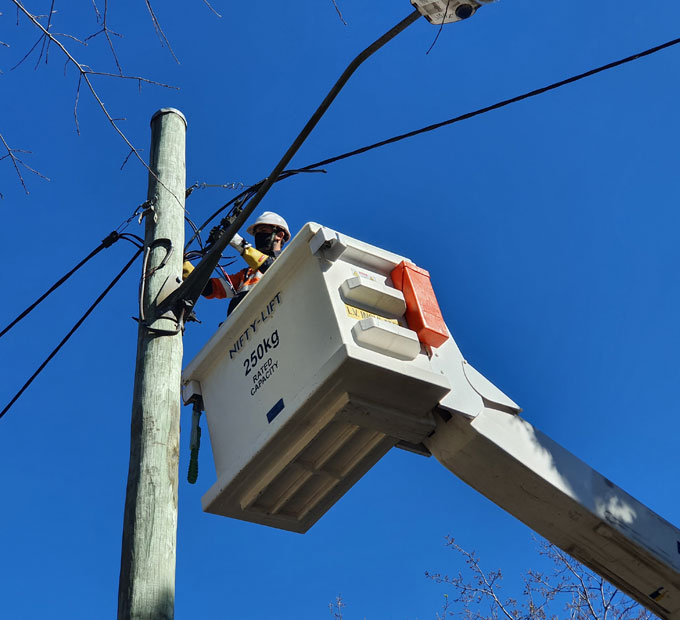 What to Expect?
A risk assessment and site evaluation will highlight if there are any dangers or critical underground infrastructure close by and a plan to drill holes for the power poles is accordingly made. After the hole is dug and prepared, the pole is set into the ground by tamping the approved blue metal compound into the ground. Typically, poles are set between 1.2m and 3m deep per the height of the pole and the composition of the ground it is set into.
Why Choose Us?
When you want to install or replace a private power pole or perform maintenance services on a private power pole, you should call in a Level 2 electrician only. IZCO Electrical is a Level 2 service provider authorised with Endeavour Energy and Ausgrid and can install or replace private power poles, or perform emergency repairs on private power poles.
If you want a free quote on your private power pole installation or replacement, call us at IZCO Electrical on 0470 123 811. We are a level 2 electrician servicing Sydney!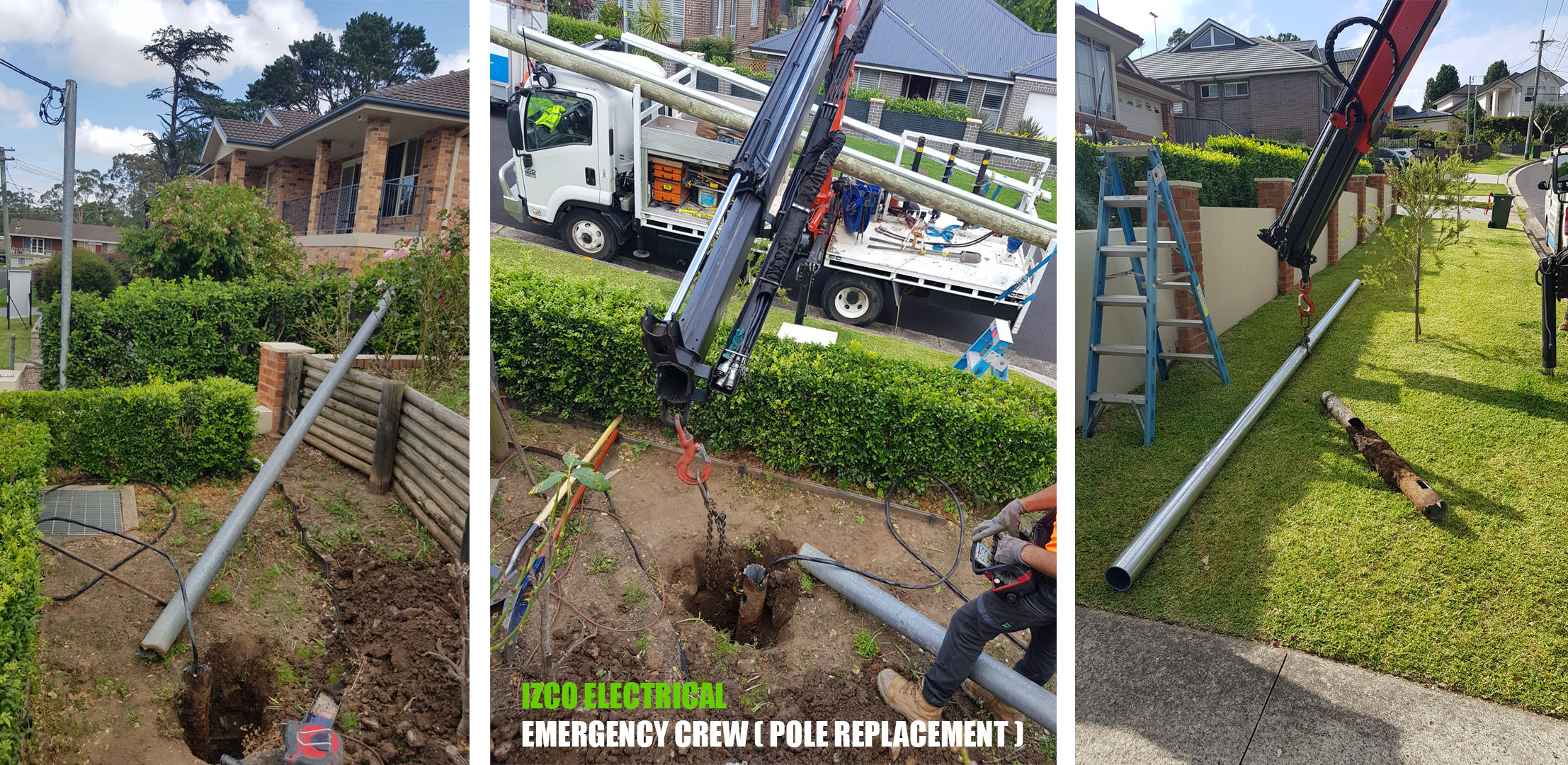 Our Lifetime Guarantee
Concerning the quality of our electrical services, you get peace of mind knowing that we are fully insured and provide a lifetime warranty on all of our electrical installations and repair works. In the unfortunate event of something going wrong, you remain protected.
When you need an expert and licensed electrician in Sydney, call IZCO Electrical on 0470 123 811 or book your job online today!
Testimonials
Fantastic!

"Our new home was situated on a large acreage and we had not even considered the idea that the power poles would need to be maintained by us. We can't thank Izco Electrical enough for helping us understand what our responsibilities were and coming to inspect our power poles to give us a report on their condition and upcoming maintenance requirements."
Frequently Asked Questions
Is there anything I can do myself to maintain my private power pole?
Service providers carry out inspections regularly and while all maintenance to private power poles and electricity supplies must be carried out by a licensed Level 2 electrician, there are a few minor maintenance tasks you can do yourself. These can include:
Remove vegetation from the base of the poles and keep trees clear of overhead power lines.
Besides, regularly check for broken strands of wire, loose or damaged insulators, and broken or damaged poles.
If you notice any issues to maintain a safe, reliable power supply to your home, contact IZCO Electrical on 0470 123 811 right away!
Whose responsibility is it to repair power poles?
Depending on the location of a power pole, the concerned person will be responsible for repairing the power poles. For instance: –
If the power poles are located on the street, then it is the responsibility of the power supplier.
If the power pole is positioned on your property, after the point of supply, then it is the responsibility of the homeowner to make sure they are maintained, repaired and replaced as required.
What is a private power pole?
A private power pole is a property's power source. It is connected to a property through the street's electrical network and the point of attachment.
Is it possible to position a private power pole anywhere on my property?
There is a standard for placing private power poles on a property. The first private power pole or "A pole" should be positioned within 1m of the property's front. Any subsequent power poles can be positioned within the boundary as required.
How much does it cost to install a power pole?
A new galvanised steel pole can cost around $799 to $999 per size. Installing and connecting the pole can cost around $2300 to $5300. If you have an issue selecting the pole type that suits your budget, our level 2 electricians can offer the help you require.
What are the types of power poles in NSW?
Types of power poles in NSW include:
Private Power Pole
Network Pole
Temporary Builder's Power Pole
Lead in Pole
Lighting Pole
And Telecommunications Pole
Who can install private power poles?
Well, only licensed level 2 ASP electricians can perform private power pole repairs, installations and replacements. Level 2 electricians are specially trained to work directly on a street's electricity network compared to ordinary electricians.